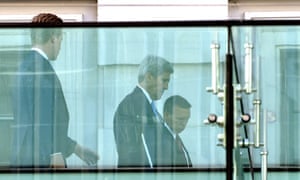 Iran's attitude to the United States is like someone pining for a former, perhaps abusive lover. It has declared its contempt but also longs to again be a partner. And as is often the case, the line dividing hate and love is a thin one.
Take for instance the hostage crisis in 1979, when militant students stormed the US embassy and imprisoned diplomats in Iran for 444 days. Though it led to a breakdown of diplomatic relations, the two sides started talking behind closed doors to resolve the crisis….more: theguardian.
Chronicle Samuel Schaal, minister of the Bay Area Unitarian Universalist Church, left, and Waleed Basyouni, the imam of the Clear Lake Islamic Center, share a spirit of understanding as well as land.
A mosque was built less than 100 yards away from an 18-year-old Clear Lake church last year, and the two religious organizations have acted as neighbors ever since, sharing parking, recycling bins — even baby-sitting more… .chron