Occupy Wall Street' Protesters Settle in for Long Haul
Wall Street Protests: Anger Spreads   
 A coalition of clergy carry a "False Idol" to… 
By ALICIA TEJADA and CECILIA VEGA
The Occupy Wall Street protesters might be struggling to find a unified message but there appears to be little doubt about their growing resolve as the movement settles in beyond the small lower Manhattan park where it began nearly four weeks ago.
"There is something that's bubbling, something that's happening, there is a youthful involvement here," a New York activist said of protests that have spread to cities across the country such as Seattle, Philadelphia, Atlanta and Austin, Texas. "There is an energy that might lead to something big. I'm hopeful."
The Occupy Cleveland group pushed its cause this weekend in Ohio where protesters marched throughout the city. Participant Lacey Smalldon, who joined a march to Cleveland State University and City Hall, said the group is on a mission.
"Fight corporate greed and not look at it with anger and not settle on anger but to try to move forward and figure out how we can make this system functioning," Smalldon said.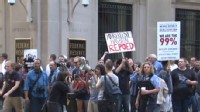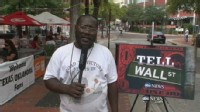 Occupy Wall St. Protests Represent Main St.? Watch Video
At Washington's Freedom Plaza, a planned four-day protest might be extended indefinitely, the Associated Press reported today.
The demonstrators' permit with the National Park Service expired at 10 p.m. tonight, protest organizer Maria Allwine told the AP, but they intend to stay at least overnight. It's an "occupation," she said, adding that protesters are taking good care of the plaza.
Similarly, activists at New York City's Zuccotti Park, where the protests began Sept. 17, have formed their own volunteer cleaning crews, collecting trash and sorting recyclables. They have also offered to clean the restrooms of the businesses in the area of the park.
They are also reportedly contemplating how to mange the protests as the unseasonably warm weather gives way to the fall and winter.
Nearby, the sun rose today over Washington Square Park in Manhattan to reveal protesters who have taken their grievances to other areas of the city.
The issues include global warming, gas prices and corporate greed, but the common thread is anger targeted at the wealthy and powerful at the expense of the middle class and less fortunate.
Students protesting against tuition hikes, union leaders speaking out against health of the middle class, people angry and disillusioned with the economy and political process in general have gathered daily and are growing in the masses. SOURCE