Outrage Mounts Over Syria Massacre
A big number of the young men were killed in the field when they were trying to escape the army attack. Helicopters targeted them by heavy machine guns while they were driving their motorcycles – while they were fleeing the village.
Today the people of Tremseh opened a house that was burned by troops. They found two people who were burned alive. My sister told me that the only two doctors in the village were targeted by mortar shells. Both doctors were killed in their houses.

Syria crisis: Tremseh 'massacre' – Friday 13 July 2012
• Assad forces kill more than 200 near Hama, say activists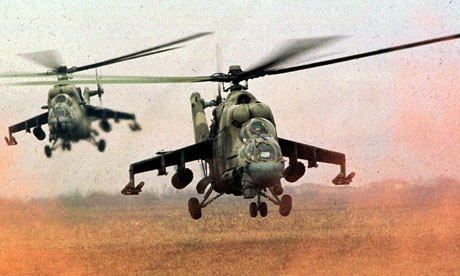 • State media blames "terrorists" for the killings
• Annan critical of regime using heavy weapons in Tremseh
• UN security council stuck in gridlock over Syria
5.16pm: Here's a summary of the latest developments on Syria:
• More than 200 Syrians, mostly civilians, were massacred in Tremseh, near Hama, when it was bombarded by helicopter gunships and tanks and then stormed by militiamen who carried out execution-style killings, opposition activists said.
• The UN's monitoring mission in Syria confirmed the use of heavy weapons in Tremseh including tanks and helicopters, before the alleged massacre took place. General Robert Mood, the head of the mission, said military operations were continuing and his monitors had been prevented from entering Tremseh.
• International envoy Kofi Annan said the Syrian government's use of heavy weapons in Tremseh was a violation of its apparent commitment to his peace plan. He said he was "shocked and appalled" by reports from Tremseh. Annan is due to hold talks with Russia on Monday.
• The Syrian government blamed the killings on "terrorists". The state news agency accused elements of the media of spreading "lies and fabrications" as a way of prompting foreign intervention against Syria.
• The opposition Syrian National Council has repeated its call for the UN security council to pass a binding resolution against the Assad government in the wake of the killings. Britain's foreign secretary William Hague said diplomats in New York will continue to press for a Chapter VII resolution in the face of repeated objections from Russia.
• Firas Tlass, the businessman brother of defected general Manaf Tlass, still sees a role for Bashar al-Assad in Syria. In an interview with Asharq al-Awsat he said the most suitable solution for Syria would be for Assad to hand power to a joint council … "which is what we might call a mixture of the Egyptian and Yemeni solutions". the entire article at source